Woodway treadmills are a world-class standard of exercise equipment, whether it's for top-level fitness training or medical rehabilitation. With more than 40 years of experience, Woodway strives to provide the best possible experience in fitness, for every user.
The Woodway Slat Belt running surface is lightweight, yet robust, with shock-absorbing technology. The slats absorb foot strike at the point of impact, giving the feel of natural trail running and eliminating shock to joints and connective tissues.
This means you can train harder, for longer, in comfort, and without placing unnecessary load on your body. The rubberised slats also absorb the sound of your foot strike, providing a super quiet treadmill running experience, for your enjoyment, and for those around you.
Requiring minimal electricity, thanks to the user-generated belt movement, Woodway treadmills last longer, require less maintenance and cost less to run than traditional motorised treadmills. This is particularly evident in commercial facilities where equipment has to withstand heavy usage.
The patented Woodway Curve is a completely self-powered, manual treadmill, offering a unique workout experience that requires zero electricity.
You are the motor when you walk or run on this totally manual treadmill, challenging the body and burning up to 30% more calories than you would on a motorised treadmill. Speed is determined by the user simply quickening their pace and moving further forward on the belt, while walkers will remain in the more curved section. Running on the Woodway Curve produces increased posterior activation, and optimum running posture and foot strike.
In addition to the flagship Curve model, Woodway offers the Curve FTG, their resistance training model. With 20 levels of resistance to choose from, users can combine cardio with the added challenge driving their legs to simulate pulling and pushing, while maintaining good form.
Using the aforementioned Woodway Slat Belt Technology, this treadmill offers up a silky smooth, quiet, and shock-absorbing running surface for users. The 4Front treadmill is a flat surface but can be raised to a whopping 25% incline for hill training. The user-powered conveyer belt allows for a variety of training routines, including side-to-side and single-legged actions by incorporating the handrails. A great option for those who want to train to maximise human performance, but are put off by the curved treadmill design.
Boost One Anti-Gravity Treadmill
Building on the Woodway 4Front is an unrivaled impact-reducing solution for your performance and rehabilitation needs. The Boost One Treadmill allows users to walk or run at as little as 20% of their body weight, making it ideal for both high-performance and physical therapy applications. The air pressure treadmill operates quietly, with users suspended in a pair of shorts to support their body weight while they exercise. You can check out our other article all about the Woodway Boost treadmill if you'd like to know more and read about some of the world-class athletes and rehabilitation specialists who use anti-gravity treadmills as part of their toolkit.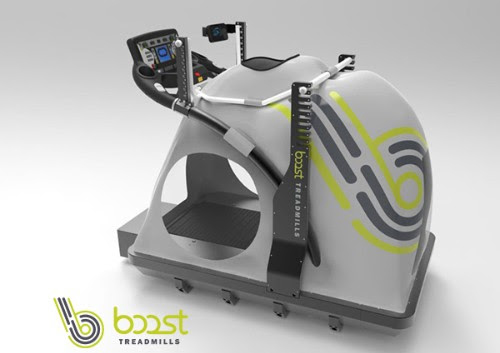 Novofit is the official Australian supplier of Woodway treadmills. If you'd like to make an enquiry about purchasing Woodway treadmills in Australia, you can find their contact details in our supplier guide.
Article updated November 2023. Les Mills Asia Pacific celebrated the 100th release of the hugely popular RPM cycling program with a sell-out event in Sydney this month. The milestone was a testament to 25 years of fresh, engaging workouts with a cult-like following of indoor cycling enthusiasts. What is Les Mills RPM? RPM is a
Read More »